Events - Wednesday, March 25
Events - Wednesday, March 25
March 25, 2020
9:00 AM - 2:00 PM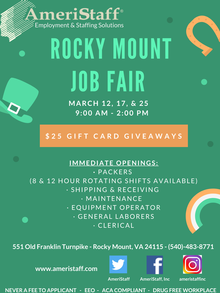 Our office is hosting an In-House Job Fair on March 12th, 17th and 25th from 9:00AM- 2:00PM! Come see us to hear about our immediate openings for packers, shipping & receiving associates, and more! Interview with us for a chance to win a $25 gift card!
---
March 25, 2020
9:00 AM - 12:00 PM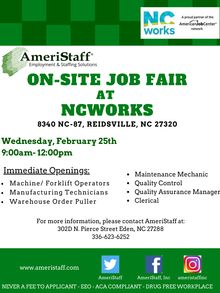 The Eden AmeriStaff is hosting a Job Fair at the NCWorks Career Center in Reidsville, NC on March 25th from 9:00 AM to 12:00 PM! We have immediate openings available for machine operators, manufacturing technicians, clerical positions, and more!
---
March 25, 2020
10:00 AM - 2:00 PM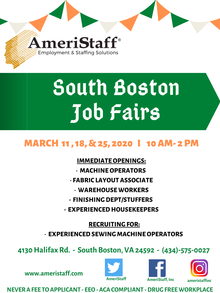 The South Boston AmeriStaff is hosting a In-House Job Fair on March 11th, 18th, and 25th from 10:00 AM to 2:00 PM! If you are interested in finding a position, please come by our office to interview during this time! For more information, call 434-575-0027!
---