Events - Wednesday, September 18
Events - Wednesday, September 18
September 18, 2019
9:00 AM - 2:00 PM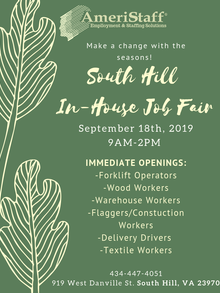 AmeriStaff in South Hill, VA will host an In-House Job Fair. There are immediate openings for Forklift operators, Wood Workers, Warehouse Workers, Flaggers, Delivery Drivers, and Textile Workers. Come see us at 919 West Danville St. South Hill, VA 23970 or call us at 434-447-4051!

---
September 18, 2019
10:00 AM - 2:00 PM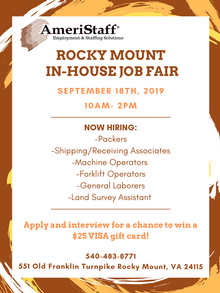 Rocky Mount AmeriStaff will hold an In-House Job Fair on September 18th from 10AM to 2PM! Apply and Interview for a chance to win a $25.00 VISA gift card! Call us at 540-483-8771 or come by and see us at 551 Old Franklin Turnpike Rocky Mount, VA 24115 for more information!

---
September 18, 2019
10:00 AM - 2:00 PM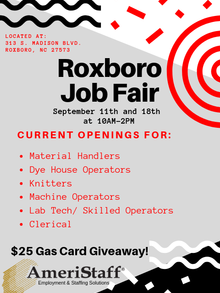 September 11th and 18th, Roxboro Ameristaff will be holding an on-site job fair. We have current openings for Material Handlers, Dye House Operators and more! Please stop by or visit us at our website at http://www.ameristaff.com/ for more information.
---